We have been using EMI fans for 40 years.
This is why Jordi Mujal, technical manager at Sertic, with long time knowledge and expertise in the domain of ventilation and energy efficiency, came up with the EMI ECplus solution. "We have been using EMI fans for 40 years and are glad this more energy efficient solution has become available as an answer to the EU legislation."

Easy installation and maintenance
The installation was designed in two groups with each 3 Tube Fans with ECplus technology and 3 Panel Fans. The second group will only be used in the summer when the high temperatures make it necessary to add ventilation. Mr Batallé looks back on a very easy installation: "I bought the fans, got them installed and they were ready to work. No issues, no worries, no problems."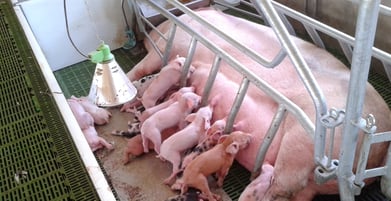 Trusted service and reliability
Jordi Mujal (Sertic) and Narcís Quintana (Agrogi, area distributor of Sertic) proposed to Granja Mas Badia their turn-key solution including a high level of service. "Mr Batallé was looking for first rate service. This is what we are known for and what we have proven to him in the past", explains Mr. Mujal and Mr. Quintana. Mr Batallé adds: "I need a quick response in case of an incident, but based on more than 30 years of experience with EMI I do not expect any surprises".